Environmental Rooms
Since 1972, Russells has utilized our expertise in refrigeration and air conditioning technologies to manufacture environmental rooms that can maintain -40° F cold on a continuous basis or can reach as high as 185° F heat. These simulation test systems can be supplied with temperature and humidity PID controls or with computerized data acquisition and control systems. They allow customers to undertake testing for long-term stability, accelerated testing, humidity, comparative stability, forced long-term stability and stability of active pharmaceutical ingredients. Our environmental rooms are designed to meet FDA and ICH guidelines for stability testing and storage.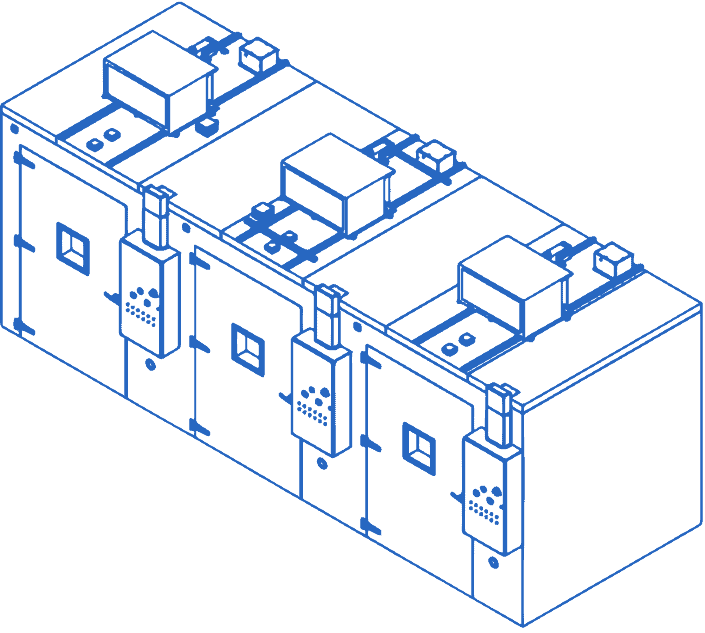 About Environmental Humidity and Stability Rooms
We use the highest quality components in fabrication to ensure that our environmental rooms continue at top performance for many years. Our test rooms may be used for the following applications:
Biological/biotechnology Research
Pharmaceutical stability
Shelf life experiments in the food industry
Entomology (insect rearing) research
Industrial environmental testing
Crop science
Soil science
Laboratory/Medical
Electronic burn-in
Seed storage
Plant growth
Consumer product testing
Archival storage
Cold storage
Modular environmental room construction with pre‐fabricated wall panels produced with a urethane foam insulation core
Wall insulation, 13k factor
Wall thickness: 4" (100mm)
Available wall panel finishes: galvanized steel, steel with baked enamel, embossed aluminum, stainless steel
Floor loading to 600 lbs/ft₂ (2900 kg/m₂) evenly distributed
Available door sizes from 34" to 60". Bifold doors are available
Hardware hinges and latches are heavy duty polished castings
Microprocessor temperature/humidity programmer controller mounted in console with acrylic cover
Can be relocated
Typical Ranges:
Humidity Range:

20% to 95% RH within the bounds of a 158°F/70°C max. dry bulb and a 40°F/4°C min. dewpoint.
Through-wall access ports with foam plugs
Viewing windows
Refrigeration gauges
Refrigeration sound deadening package
Water cooled condenser
Humidity water demineralizer
Dry air purge system
Desiccant dehumidifier
Ante rooms
Entry ramp
Running time meter
Electrical disconnect switch
Floor screeds for attachment of "floorless" chamber to existing building floor
Key locked instrumentation console
Outdoor refrigeration units
Solid state humidity sensor on humidity models
Product safeguard redundant over/under temperature limit
Circular or electronic chart recorders
Computer communications, networking, data‐logging software
Low or zero ozone depletion refrigerants
Air cooled condenser
Compressor overload protection
All piping joints silfos or silver soldered
Refrigeration/condenser skid
All wiring meets NEC standards
120v control circuit transformer
Fully enclosed electrical panel mounted above instruments
All circuits fused or circuit breaker protected
Full system function switches with system status pilot lights
Incandescent interior lighting
All wiring numbered or color coded
Any of our chambers can be made explosion proof (EP).