Portable Conditioning Units (Remote Conditioners)
Our portable conditioning units provide innovative, practical solutions for our customers. Offering a robust range of temperature only or temperature and humidity capabilities, these units will condition existing environmental test chambers and predesigned and custom remote enclosures. Available in single stage or cascade refrigeration, with optional LN2 cooling, virtually every environment is attainable with our portable conditioning units.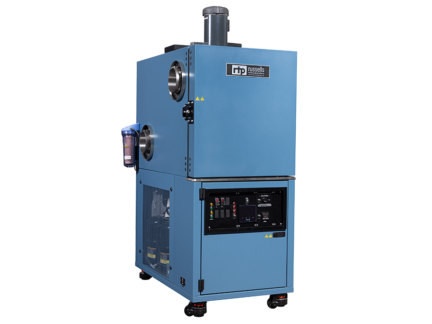 Portable Conditioning Unit – 810 – Mechanically Cooled

Get Quote
Russells PCU-810 Mechanically Cooled Temperature or Temperature/Humidity Portable Conditioning Units give you robust environmental testing flexibility for your remote testing needs.
Single stage or cascade mechanical refrigeration system
Air or water cooled condensing systems
Maintenance free powder coated exterior
230v, 208v or 460v operation

UL 508A

compliant control panel
Heavy duty casters swivel for portability, with incorporated leveling pads
Product safeguard
6" duct ports
Temperature range (single stage): -30˚C to +180˚C (-22˚F to +356˚F)
Temperature range (cascade): -70˚C to +180˚C (-94˚F to +356˚F)
Humidity models offering 20%RH to 95%RH
Air delivery from 686 to 372 CFM
Insulated flexible air ducts
Air or water cooled condenser
LN2 or CO2 boost cooling
Running timer meter
Electrical disconnect switch
Humidity water demineralizer on humidity models
Circular or electronic chart recorders
GN2 purge system purges dry nitrogen into the chamber  to mitigate
External keypad
Boost heating provides additional heating to decrease heat up by up to 50%
Dry air purge minimizes migrating moisture and condensation to control humidity
Additional LN2 nozzles for variable flow rate
Can be equipped with battery testing safety features according to EUCAR hazard safety level
Low or zero ozone depletion refrigerants
Cascade or single stage refrigeration system
Energy saving refrigeration bypass capacity control
Low stage desuperheater on cascade models
Oil pressure switches
Compressor suction and discharge pressure switches
Vapor tank and condenser ASME certified
Compressor overload protection
High stage compressor crankcase heater
Compressor head fans
Low stage oil separator
All piping joints silfos or silver soldered
Stainless steel compressor condensate pans
Quick response vapor generator with replaceable Inconel® sheath immersion heater
Vapor generator failsafe overtemp protection
Humidity water demineralizer
Humidity range: 10% RH to 95% RH
UL 508A compliant control panel
All wiring meets National Electric Code (NEC) standards
System branch circuits individually fused
115v control circuitry
Full system function switches and indicator lights
System fault status indicators
All wiring color coded and labeled
High temperature failsafe limit
Portable Conditioning Unit – 810 – LN2

Get Quote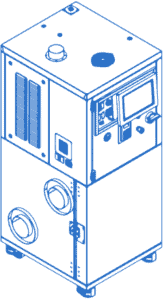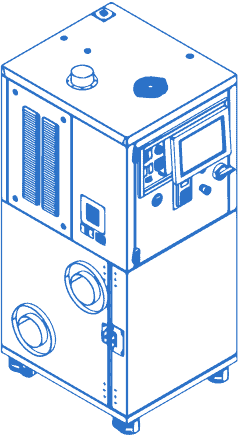 Russells PCU-810-LN2 Temperature or Temperature/Humidity Portable Conditioning Units offers users a wider cooling range with dramatically decreased temperature pull down times.
Direct inject LN2 cooling
Maintenance free powder coated exterior
230v, 208v or 460v operation

UL 508A

compliant control panel
Heavy duty casters swivel for portability, with incorporated leveling pads
Product safeguard
6" duct ports
Temperature range: -85˚C to +180˚C (-120˚F to +356˚F)
Air delivery from 686 to 372 CFM
Insulated flexible air ducts
LN2 or CO2 boost cooling
Running timer meter
Electrical disconnect switch
Circular or electronic chart recorders
GN2 purge system purges dry nitrogen into the chamber  to mitigate
External keypad
Boost heating provides additional heating to decrease heat up by up to 50%
Dry air purge minimizes migrating moisture and condensation to control humidity
Additional LN2 nozzles for variable flow rate
Can be equipped with battery testing safety features according to EUCAR hazard safety level
Direct injection liquid nitrogen cooling
Cryogenic service control solenoid valve
All piping joints silfos or silver soldered
Humidity capability NOT available on LN2 only models
UL 508A

 compliant control panel
All wiring meets National Electric Code (NEC) standards
System branch circuits individually fused
115v control circuitry
Full system function switches and indicator lights
System fault status indicators
All wiring color coded and labeled
High temperature failsafe limit