ESS Thermal Shock Chambers (TSV, TSH, TSD Series)
Russells' air-to-air thermal shock chambers meet the demands of today's environmental stress screening with proven performance in installations around the world. Our direct transfer method between hot and cold is an economical way to achieve rapid part temperature change for ESS or thermal shock. A Russells application engineer can assist you in selecting the configuration, size, and options that best suit your needs.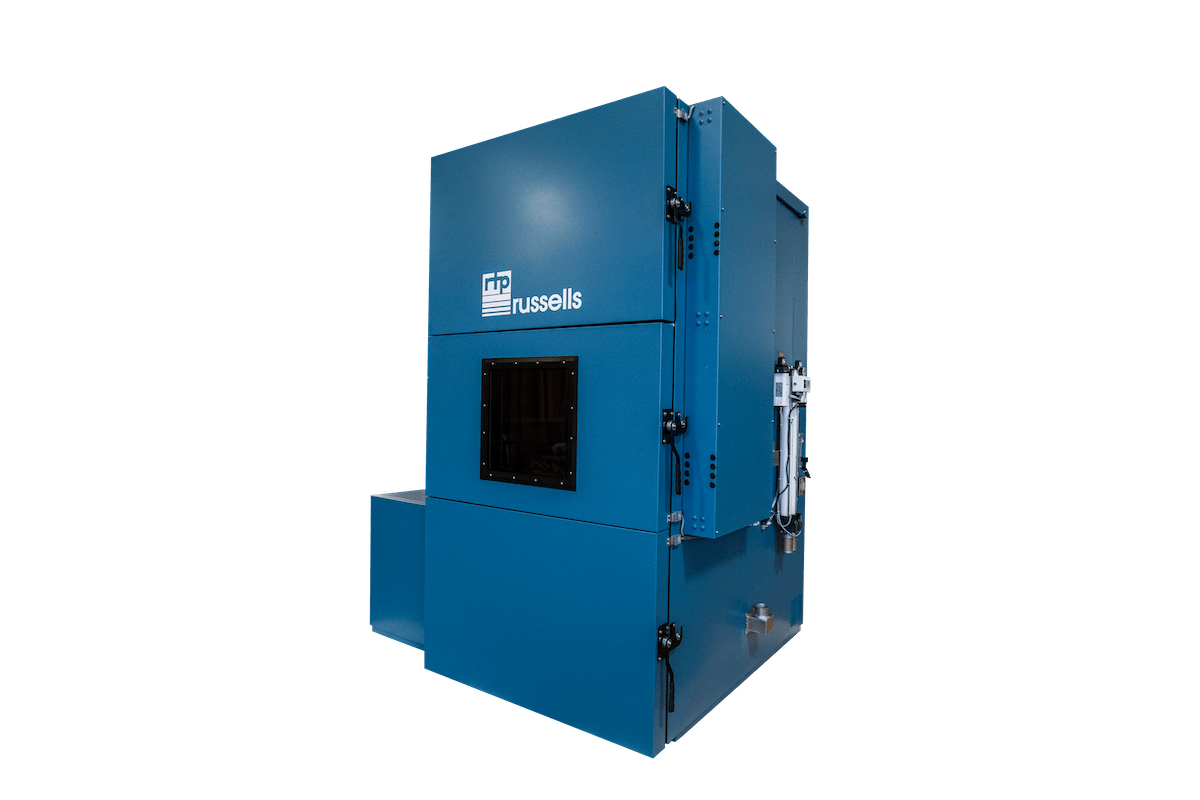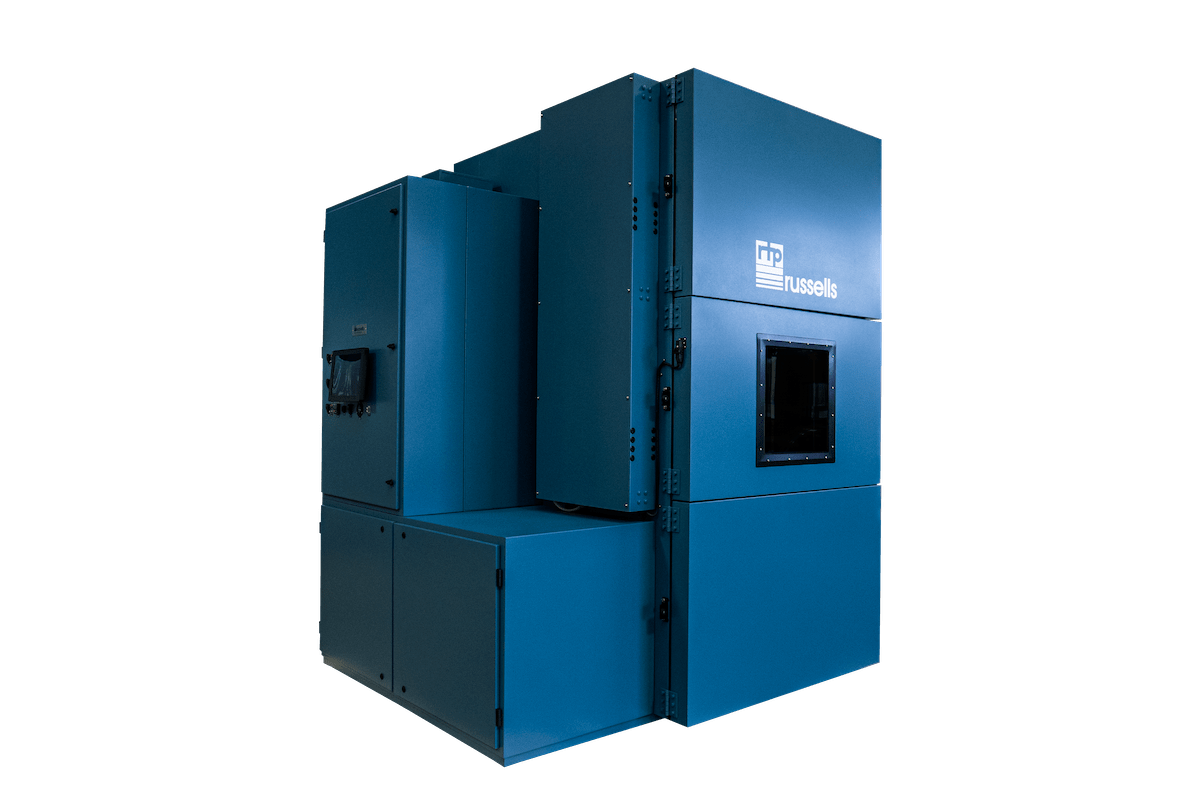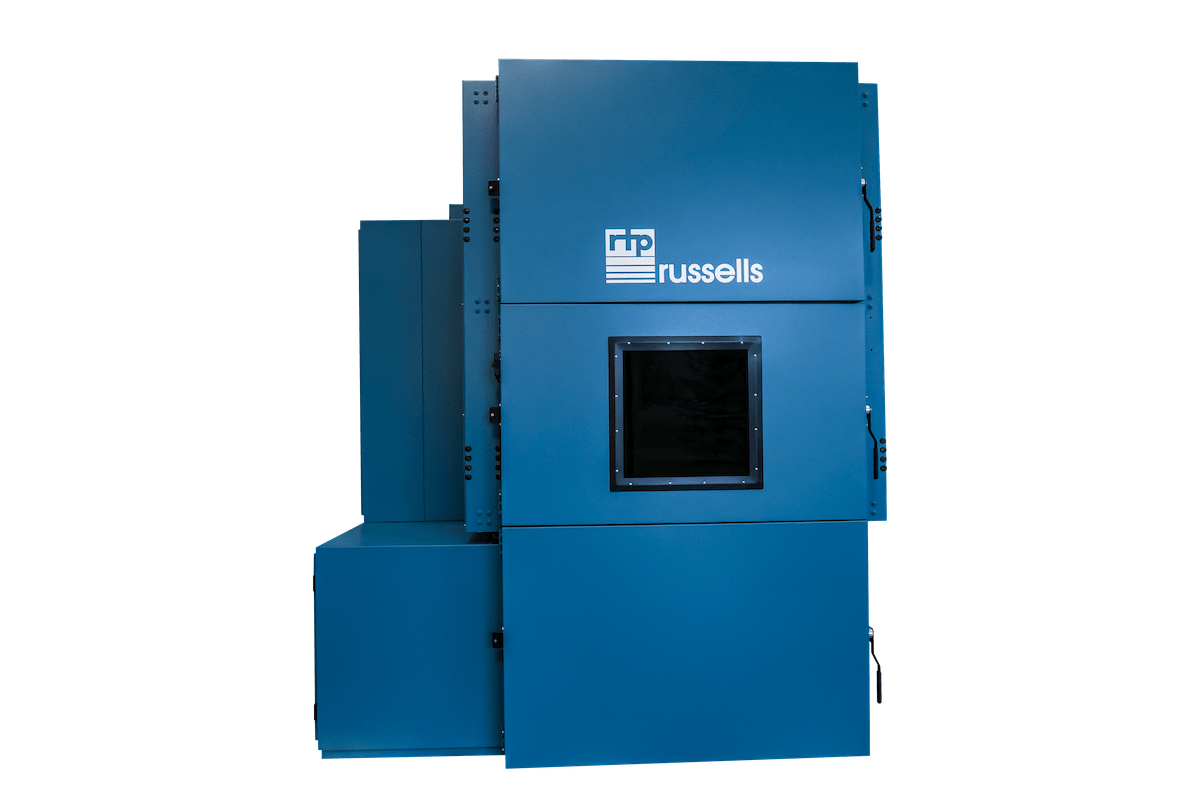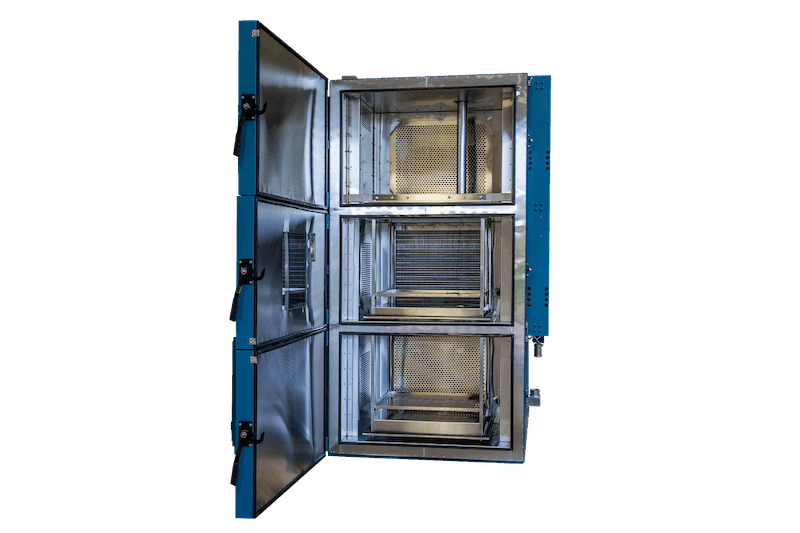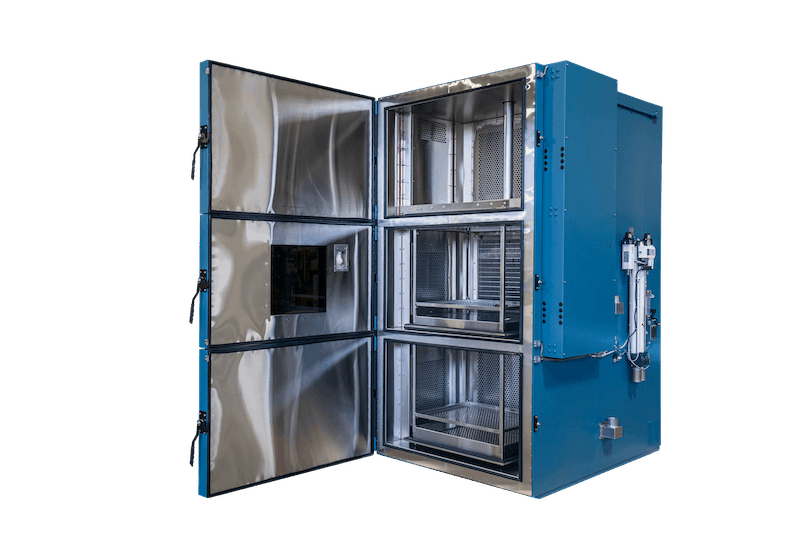 About ESS Thermal Shock Chambers
ESS is a means of screening products to expose defective parts or process problems that can't be detected upon visual inspection or electrical testing. Developed to detect product defects and production flaws in electronics manufacturing, ESS uses thermal cycling or vibration to expose failures. Environmental stress screening chambers can be used as part of the manufacturing process, or they can be used in new product qualification testing.
Thermal shock chambers
Chamber liners heliarc welded and dye checked brushed 300 stainless steel.
Fiberglass insulation, urethane foam insulation
Welded structural steel frame
Service panels removable with 1/4 turn fasteners
Chamber fan motors externally located
Dual silicone door gaskets
Cold chamber drain
Microprocessor temperature programmer controller
TSV Series Two Zone (hot/cold) Vertical – direct hot/cold transfer
TSH Series Three Zone (hot/ambient/cold) Horizontal – direct hot/cold transfer with selectable ambient temperature dwell required for some MIL-STD's
TSD Series Double Duty (hot/cold/hot) – direct hot/cold transfer with additional hot zone and second transfer carriage effectively doubles throughput capacity for high volume production
Sizes from 30 l (1 cu ft) to 450 l (16 cu ft) capacity
Cold zone temperatures to -100°F/-73°C
Hot zone to 392°F/200°C
Automatic transfer of test specimens between zones
Temperature range for mechanical refrigeration:

-100°F/-73°C to 392°F/200°C

Temperature range for liquid nitrogen refrigeration:

-301°F/-185°C to 392°F/200°C

ESS Chambers
Cascade low temperature to -100°F/-73°C
Single stage to -4°F/-20°C
High temperature to 350°F/177°C
Transition rates to 54°F min./30°C min.
Humidity from 20% to 95% RH
Available with passive or power product fixturing
Cart based or backplane style
Traveling access port to transfer basket
Transfer basket shelves or fixtures
Viewing windows
Refrigeration gauges
Refrigeration sound deadening package
Remote refrigeration systems
LN2/CO2 boost cooling
Air cooled condenser
Dry air purge system
Running time meter
Electrical disconnect switch
RussellsOne controller
Product safeguard redundant over/under temperature limit
Circular or electronic chart recorders
Computer communications, networking, data‐logging software
Free standing remote instrument console
Low or zero ozone depletion refrigerants
Cascade or liquid nitrogen cooling
Energy saving refrigeration bypass capacity control
Low stage desuperheater
Oil pressure switches
Compressor suction and discharge pressure switches
Water cooled condenser on mechanical refrigeration models
Vapor tank and condenser ASME certified
Compressor overload protection
High-stage compressor crankcase heater
Compressor head fans
Low-stage oil separator
All piping joints silfos or silver soldered
Stainless steel compressor condensate parts
All wiring meets NEC standards
120v control circuit transformer
Fully enclosed electrical panel
All circuits fuse of the circuit breaker protected
Full system function switches with system status pilot lights
Incandescent interior lighting
All wiring numbered or color coded
High temperature limit safety
Master heating circuit contactor
Air circulator/heater interlock
Balanced load on three phase power
Chamber door interlocks
Any of our chambers can be made explosion proof (EP).