Test Chamber Repair Services
We not only consider ourselves manufacturers, but service and solution providers. We combine our products with new web-based technologies to provide you with the best and most up-to-date test chamber repair services available.
Have a question about our services?
Reach out now
Our Services
Engineering

At Russells, we are able to custom engineer all our products so you get exactly what you need. If you need something that's completely new-concept, an integrated solution, or a custom chamber to fit a very specific space and function, we can do it for you.
Preventative Maintenance

Preventive maintenance is performed by one of our factory-trained field service engineers, who will inspect all your equipment and make minor adjustments where possible. Upon completion, we will provide a detailed recommendation of any additional environmental chamber repairs.
Service

Our goal is to not only provide the highest quality environmental test chambers, but to also provide you with the services you need to keep your equipment running reliably. Our award-winning test chamber repair services are performed by our highly qualified field service technicians and trusted third party service providers.
Parts and Refurbishment

Our test chambers and equipment are built to last, providing the optimal balance of value and reliability. In order to keep you equipment running efficiently, we offer complete spare environmental chamber parts lists on each piece of equipment, giving you the freedom to source replacement parts either from our factory or on your own. Our customer first approach also puts your bottom line in mind, that's why we'll be happy to refurbish an existing chamber in order to save you time and money.
Environmental Chamber Repair

We have a dedicated service team and a robust network of trusted independent service providers so you never have to wait to get your equipment back up and running. A phone call or email to our factory, and we'll connect you to the right service solution right away, because we understand the value in keeping your equipment operable so you can keep your testing and validation moving forward.
Training

We offer start-up, acceptance, and training on-site for each chamber that leaves our facility. You will be trained by our factory technicians at your facility, and have full confidence in the operation and capabilities of your environmental test chamber. You'll also have a direct point of contact at our facility for when you need further instruction or education with our equipment.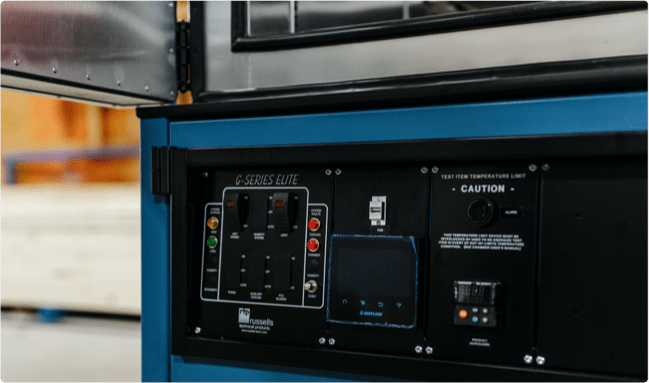 Looking for Products?
Russells Technical Products is a global supplier of climatic test chambers with a comprehensive product line that includes pre-engineered and custom temperature and temperature/humidity test chambers, thermal shock chambers, battery test chambers, walk-in chambers, altitude chambers, AGREE chambers, environmental rooms, portable conditioning units industrial freezers, environmental chamber parts, and more.
Go to Products